The following property is being sold by tender. The tender opening is
Friday April 27, 2012 at 1:00pm.
Tender Rules, Tender Documents, Zoning, Map and Property Description are contained within the tender documents. The tender documents are free and available for download by clicking the link below.
Tender 2012-05 Minimum Bid: $120,000 (Old Firehall – 1.74 Acres)
Sealed proposals, plainly marked as to the contents will be received by the undersigned up until 1 pm Friday April 27, 2012.
Township of Lake of Bays
Attention: Stephen Watson
Director of Building/By-law Services
1012 Dwight Beach Road
Dwight, Ontario   POA 1 HO
(705) 635-2272 ext 225
Old Fire Hall - 2839 Hwy 60, Dwight
Minimum Tender Amount:
$0.00
File Number:
Lake of Bays 2012-04-27-01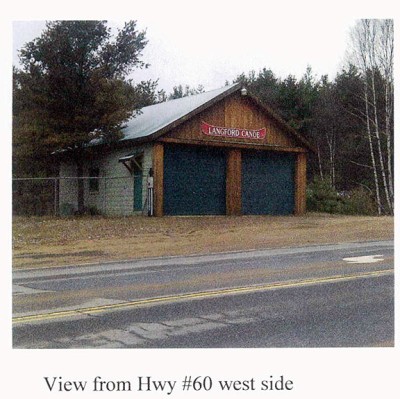 Information about Lake of Bays
Located in the northeast corner of the District of Muskoka, Lake of Bays offers a natural landscape of forests, rocks, lakes and wetlands. Because of its natural beauty, it is an important cottaging, recreation and tourism destination in Ontario. Three small communities of Baysville, Dorset and Dwight as well as waterfront and rural areas provide various types of settlement and commercial opportunities. Currently, the economy of the Township is primarily based on tourism, recreation, and the service sector with forestry and aggregate extraction contributing as well.
The Township of Lake of Bays with its permanent population of 3,000 and seasonal population of 18,000 encompasses approximately 66,000 hectares (163,083 acres) of land, containing approximately 108 lakes. The Township is situated 193 kilometres north of Toronto, within the District Municipality of Muskoka. The Township of Lake of Bays was established in 1971 from the former Townships of Franklin, Ridout, McLean and Sinclair/Finlayson (unorganized) as one of six area municipalities within the District of Muskoka.

Twitter
Be the First To Know
About new listings. Follow SurplusProperty.ca on Twitter.